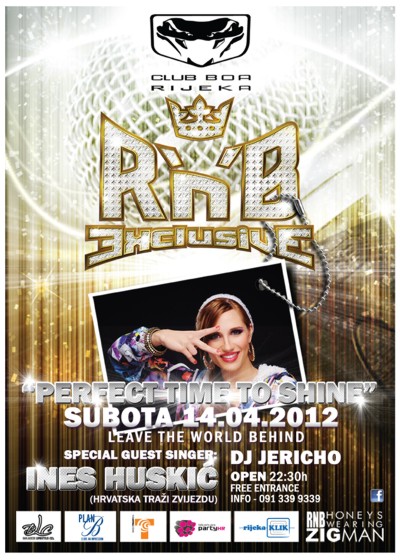 Nakon nezaboravnog provoda na prvom R'n'B EXCLUSIVE "Perfect time to Shine" partyu proteklog mjeseca odlučili smo napraviti još luđu i još sjajniju zabavu.
Svi koji nisu posjetili program R'n'B EXCLUSIVE,jednom mjesečno pozivamo Vasda se odlučite na zabavan i rasplesani noćni izlazak koji će se ovoga puta održati u subotu 14.04.2012. u Clubu Boa,Rijeka.
R'n'B EXCLUSIVE party predvodi posebna gošća za mikrofonom iz Zagreba Ines Huskić te Dj Jericho, a za dodatnu atmosferu u klubu Boabrinu neizbježni modeli R'n'B Honeys "wearing Zigman".
Ines Huskić ljepotica snažnog glasa, poznatija iz showa "Hrvatska traži zvijezdu" koja je svojim izvedbamadobila status prave R'n'B dive.Ines su čak prozvali i hrvatskom Jennifer Lopez a kako zvuči i izgleda klupski R'n'B live nastupkoji je pripremila zajedno sa Dj Jerichom provjerite na R'n'B EXCLUSIVE partyu.
I ovog puta pripremili smo nagradnu igru u sklopu novog slogana "Perfect time to shine". Prepustite se našim fotografima da vas uslikaju te možda baš vaš styling večeri odnese vrijednu nagradu. Pobjednicu večeri biraju naši Facebook članovi stoga ako se nađete na slici i vaša slika sakupi najveći broj "LIKE" –ova u narednih 7 danaod partya, osvajatevrijednu paket nagradu iznenađenjakoju je pripremio programR'n'B EXCLUSIVE.Fotke možete "Lajkati"i na klupskom portalu WWW.PARTY.HR.
U subotu 14.04. 2012.najbolji R'n'B i klupski hip hop hitovi začinjeni live izvedbomInes Huskić i DJ Jericha.
ULAZ BESPLATAN
START 22:30h
REZERVACIJE STOLOVA: 091 339 9339
POSEBNA PONUDA pića (boce)
.....Ballantines 0.03 L = 12 kn
.....Ballanitnes Equalizer 0,7l + 1L Cola = 350 kn
.....Ballantines 0,5L + 1L Cola = 200 kn
Absolute 0,5L + 1L Cola ili 2 energy drinka = 250 kn
Jameson 0,5L + 1L Cola = 280 kn
Chivas 0,5L + 1L = 360 kn